Sieviešu cimdi Burton Women's Free Range Glove

Women's

Izmēri: XS

Krāsa: True Black

Wave goodbye to cold, wet hands for good and grab yourself a pair of Burton Free Range Gloves. Built from Gnar Guard Leather, these puppies achieve the dream combo of supreme durability and feeling softer than a babies bottom. Dryride Membrane 2.0 keeps the weather at bay while Screen Grab® Thumb and Index Fingers allow you to stay toasty while giving your pals FOMO on the 'gram.
Shell Material
Gnar Guard Leather Shell – Buttery soft and seriously supple, Burton's Gnar Guard genuine leather combines maximum comfort with durable weatherproof / breathability. Mid-grab or full-crank, your palms will be pumped on the improved grip, feel, and flexibility.
Screen Grab® Gnar Guard Leather Thumb and Index Finger – Screen Grab® functionality allows total operational control over touchscreen devices that won't wear out, wash off, or fray when shooting, surfing, or claiming.
Membrane
DRYRIDE Insane Membrane™ 2.0 – This extra-thin, super waterproof membrane protects hands from wind and water while wicking away heat-robbing sweat. 2.0 offers a higher level of quick-wicking, waterproof performance.
Insulation
Thermacore™ Insulation – Developed for superior warmth-to-weight, Thermacore™ keeps hands warm without mobility-limiting bulk.
Lining
Brushed Microfiber Fixed Lining – The unique breathability properties of microfiber make it ideal for pulling heat-robbing moisture away from your body before it crashes your party.
Fit
Ergonomic Pre-Curved Fit – The superior dexterity of this articulated fit means your hands will always be warm and nimble, no matter what kind of action you get into.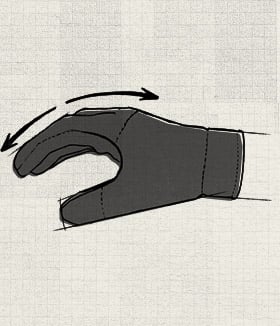 Temperature Range
Ice Cold Conditions – Fit for even the most frigid of days.
Glove Warmth:

Warmest

Material:

Leather

Insulation:

Synthetic

Cuff Style:

Under the Cuff
Burton Women's Free Range Glove True Black (XS)
Ražotāji BURTON
Modelis: Burton Women's Free Range Glove
Pieejamība: 1
Atslēgvārdi: 686, Burton, Volcom, cimdi, glove, mitt, snowboard, snovborda, sieviešu, Women's